BACKSPLASH ESTERO, FLORIDA
Stunning Backsplash Designs for your Home or Business in Estero?
Are you are looking to add a beautiful, dramatic and eye catching backsplash to your home or business in Estero?  If so, turn to the professionals at Prestige Marble and Designs. From tile and mosaic to granite and marble, we have a wide variety of colors and materials to choose from.  Whether you are remodeling or upgrading your kitchen, bath or other space, our team is here to assist you every step of the way.  Whether you live east of I-75 in a gated community, own a business near Corkscrew Road, or manage a property near US 41, our custom backsplash will be an investment that will last a lifetime.  Locally owned and operated in Bonita Springs, we have the largest selection of backsplash surfaces in Southwest Florida. Contact us or stop in our showroom today!
Ready to Start Your Project?
4 Top Benefits of Backsplashes
Protection – The walls behind your stove and sink can accumulate oils, grease, food particles and more. Bathroom walls are prone to water damage from splashes which can result in mold and mildew. Installing tile or mosaic backsplashes offers protection for your walls and your investment.
Beauty and Style – Nothing adds more beauty and style to a kitchen or bathroom than a stylish backsplash. A blank wall is an open canvas, with the vast selection of mosaics, colors and styles, your creativity can be endless.
Resist Stains – Backsplash tiles and mosaics are made from small pieces of colored glass, stone or other materials. Many of these materials are non-porous which means that stains won't be able to penetrate the surface.
Low Maintenance – Most backsplashes require very little maintenance. In many cases a quick wipe down with a damp sponge or cloth is all you need to keep your backsplash clean and delightful.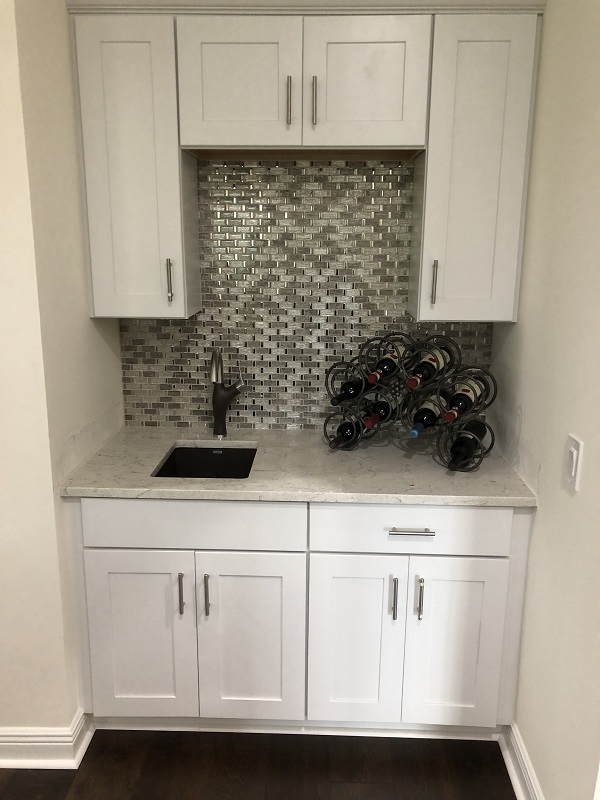 What are the Most Popular Backsplash Designs?
Backsplashes are no longer installed to simply protect your walls from splatters, spills, grease, and food. In today's homes and businesses, backsplashes are a wonderful way to be creative in your kitchen and bathroom.  Whether the look you are trying to achieve is unexpected, modern, bold, eclectic, or classic, some of the most popular backsplash designs include:
Accent Wall
Beveled White Tiles
Black Tiles
Bold Colors
Ceiling High Backsplash
Gold Veined Marble
Grey Marble
Harlequin Tiles
Herringbone Tiles
Hexagonal Mosaic Tiles
Mirrored Tile
Mosaic Tiles
Multi-color
Neutral Patterns
Onyx Tiles
Quartzite Tiles
Patterns & More Patterns
Penny Tiles
Porcelain Tiles
Scalloped Tiles
Simple White
Stunning Murals
Subway Tiles – Large
Unique Shapes
White Marble
And More
What backsplash will you choose?  Mosaic, ceiling high, bold colors or simple white?  Whether you know what you are looking for or are looking for ideas for your next remodeling project, Prestige Marble and Designs can help you select the backsplash that will reflect your personal style and coordinate with your existing countertops.
Specializing in Backsplash for Homeowners in Estero
From Wildcat Run and Shadow Wood to West Bay Club and Grandezza, Prestige Marble and Designs is your Estero, FL expert for all things having to do with backsplash, flooring, countertops and remodeling. We proudly serve the following communities in Estero:
Bella Terra
Bella Lago
Breckenridge
Cascades
Coconut Point
Coconut Shores
Colonial Oaks
Copper Oaks
Corkscrew Woodlands
Country Creek
Eldorado Acres
Estates at Estero River
Estero Palms
Meadowbrook
Miromar Lakes
Pelican Sound
Rapallo
Reserve at Estero
Rookery Pointe
Shadow Wood Preserve
Stoneybrook
Terra Vista
The Vines
Villa Palmeras
Villagio
West Bay Club
Wildcat Run
And More
Find the Perfect Backsplash for your Home or Business in Estero at Prestige Marble and Designs
Whether your project is still in the new construction phase or if you are ready to remodel or upgrade your kitchen, bath or other space in your home or office, Prestige Marble and Designs is here to assist you every step of the way. Our professionals can help you select the right color and style of backsplash tiles to match and enhance your existing countertops and floors. If you are looking for a complete remodel or renovation, Prestige Marble and Designs can help you with those services as well. From backsplashes, countertops, floors and more, we are here to help you create your vision.
Providing a Unique Selection of Exotic Countertops & Flooring
Prestige Marble & Designs Proudly Services
Collier County
Naples, North Naples, Marco Island, Golden Gate, Immokalee, Ava Maria
Lee County
Bonita Springs, Fort Myers, Fort Myers Beach, South Fort Myers, Estero, Sanibel Island, Captiva Island, Lehigh Acres